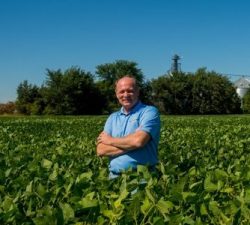 A fifth generation farmer from North Dakota, Bob Metz, is proud to say all four of his children are all involved in production agriculture. Bob's a soybean grower, current United Soybean Board Director and former U.S. Soybean Export Council member, who is truly passing on his passion and commitment to agriculture for generations to come. I met him at the 2016 U.S. Soy Global Trade Exchange where U.S. soybean growers gathered with agribusinesses from around the world to talk why U.S. soy.
"It's actually the second time I have retired from USSEC. USSEC has been very valuable and is an amazing organization. We have people in approximately 80 different countries around the world. Consultants who are from the country they work in, so they understand the culture and the issues. They work for us, the American soybean farmer, helping us make our customers more profitable. There is something about a people to people business."
Bob said he wants buyers of U.S. soy to understand that they are getting a premium with their purchase. This event was just one example of the support buyers receive. Not only were attendees able to meet the growers, they visited their farms, they toured loading facilities at the Gulf or Pacific and gathered an understanding of how GM crops give them a good, clean, safe soybean.
Listen to my complete interview with Bob here: Interview with Bob Metz, ND Soybean Farmer
View and download photos from the event here: 2016 US Soy Global Trade Exchange Photos