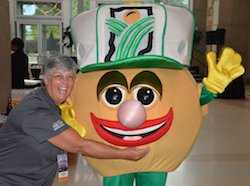 Over 300 attendees at the 2016 U.S. Soy Global Trade Exchange came from nations outside of the United States, and Belinda Burrier, United Soybean Board Director for Maryland, made sure to utilize this global event as an opportunity to talk to international buyers and learn more about what properties of U.S. soy are making the greatest impact on buyers throughout the world.
"The international community wants to have U.S. soy because we are producing it sustainably," she said in an interview during the 2016 event. "We are concerned our soil, our air, and our water, and we want to produce the best product that we possibly can, and it's showing up in the amount of soy that we sell internationally."
Burrier is truly working to put a face on the American farmer as she markets U.S. soy to a global audience. She has completed a number of international missions through her position with the United Soybean Board, and sustainability is always the top priority in her conversations whenever she is networking overseas.
"Soybean growers are very busy, and it's important that we get out there and speak about the industry, especially about how sustainable we are, and promote the industry throughout the world," she said.
Learn more in Jamie's full interview with Belinda here:
Interview with Belinda Burrier, United Soybean Board
View and download photos from the event here: 2016 U.S. Soy Global Trade Exchange Photo Album