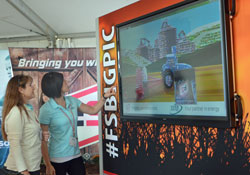 The #FSBIGPIC at the FS Star Energy exhibit is about the coolest thing I've seen here at Farm Progress Show.
Here's how it works: Just take a picture and send it out on Twitter or Instagram with the #FSBIGPIC hash tag and like magic it appears in a big mosaic. "When they come in and they find their photo, they can enter to win a Yeti cooler," said GROWMARK Marketing Communications Manager Bev Long. "In addition, they can see how they fit in to the big ag picture."
Long says people are telling their stories with their photos. "They're taking pictures of their crops, they're taking pictures of their equipment, their family and telling us about their farm story," she said.
Another fun activity at the FS exhibit is Tag Ag-Culture where people are spray painting on panels and leaving their marks. "Folks are coming in and just spraying up the wall and having a lot of fun," said Long.
Besides the chance to win a Yeti cooler, there are interactive games to play and other prizes to win. Learn more in this interview with Bev and make sure to stop by Lot #1302 and have some fun! Interview with Bev Long, GROWMARK