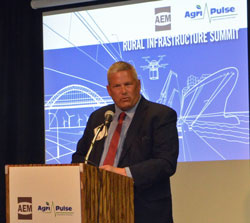 Iowa Agriculture Secretary Bill Northey kicked off the Rural Infrastructure Summit in Ames on Monday, sponsored by the Association of Equipment Manufacturers (AEM) and Agri-Pulse Communications.
"This is an important conversation," said Northey. "We don't want to miss our turn to invest competitively in our infrastructure."
Northey talked about why rural infrastructure is so important to agriculture in his state which produces more corn than most countries and where there are seven pigs for each person. "We've got more corn and soybeans than we have markets for right now, so we've got to keep moving it," he said. "We talk about infrastructure, we certainly start with transportation infrastructure."
Iowa has two new pork processing plants, 42 ethanol plants and a dozen biodiesel plants, "these are all infrastructure pieces that allow agriculture to be successful," said Northey.
Listen to all of Northey's comments here: Bill Northey Remarks at Rural Summit