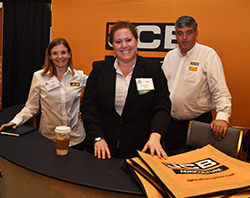 JCB made an appearance at the 2016 Ag Media Summit to discuss the company's commitment to quality material-handling equipment, and Ray Bingley, Agriculture Product & Sales Manager for JCB, sat down with Chuck to talk about the company's line of telescopic handlers that are increasingly replacing tractors with loaders to stack, lift, load, power attachments and move things around the farm.
"In North America, telescopics are still relatively new, although they've been in the market for a long time, and right now, the main machine for materials handling on a dairy farm is a tractor with a front end loader, so the message we're now trying to get out to the customers is really that telescopics are a more productive way of doing things," said Bingley. "They not only allow you to lift more, but you can do it faster, and the one thing that's always in short supply on a farm is time, so not only does it save them time but it makes farms more productive and will hopefully improve their bottom line."
JCB's line of articulated telescopic handlers includes the new, low profile JCB 525-60 Agri Plus, which features a 5000 pound loading capacity and offers 20 feet of lift with an incredibly compact size. The machine is designed to get into the smallest of buildings, making it appealing to poultry and hog producers who need to move materials in and out of barns.
The company's full product line also features backhoe loaders, tracked excavators, wheel loaders, rough terrain forklifts, compact excavators, skid steer loaders, compact track loaders and the unique Fastrac tractor.
"We have a network of 63 dealers in North America, and we've almost doubled that in the past three years, there's about 180 locations, and the plan for JCB is to double that again in the next five years to get to about 120 to 130 dealers and hopefully about 300 locations," said Bingley. "We're still relatively new to the North American market, but I think we can offer American farmers a great way to improve their operations when it comes to materials handling."
Listen to Chuck's full interview with Ray here:
Interview with Ray Bingley, JCB
View and download photos from the event here: 2016 AMS Photo Album