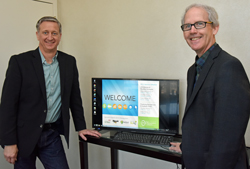 DTN/The Progressive Farmer has been making a "latte" noise this week.  To launch their newly redesigned website the team hosted not one, but two parties at the National Agri-Marketers Conference!  The Morning Barista Coffee Lounge opened bright and early so attendees could sip caffeine while perusing www.dtnpf.com.  The After Hours Dessert Lounge provided the night owls with something a little sweet while they browsed through the easy-to-use weather and marketing pages.
"We've completely rebuilt our public website, the dtnpf.com website, which is available without a subscription fee.  Its a complete launch, a complete rebuild– as we're saying here, its built from the ground up.  Some of the key features are that it is more responsive to mobile phones and tablet and those kinds of things because we continue to see research that farmers are using websites more that way," AgWired learned in our interview with Greg Horstemeier and Greg Hillyer.
The rebuild project involved a lot of input from users, with DTN reaching out to see what readers wanted.  The new site enhances user experiences, but not just for Ag Nerds.  Many users are still have older systems, so the platform was built to accommodate farmers with a wide variety of needs.
The new website has more real estate for advertisers and the adds can be targeted based on demographics– something DTN has been doing long before technology made the task mainstream.  The site also offers enhanced weather and marketing information, although the wealth of information for those topics is made available by subscription at mydtn.com.
You can listen to the full interview here: Interview with DTN/The Progressive Farmer
Coverage of the Agri-Marketing Conference is sponsored by
Brownfield Ag News
and
Nufarm