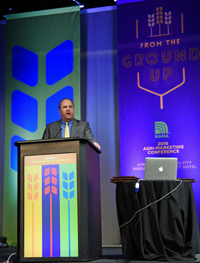 The National Agri-Marketing Association has kicked off its 2016 annual meeting and AgWired caught our first interview with Marvin Kokes, the outgoing President of NAMA.  Kokes comes from the National Cattlemens Beef Association and looks forward to focusing his time and efforts there once again, but but believes NAMA is truly an amazing organization.
The conference will feature some great keynote speakers and educational segments.  If you're in agri-marketing there is something here for you, Kokes promises.  The best part about the conference, however, are the connections you make.  With 1,200 attendees, 800 professionals and 400 students, there are numerous opportunities to make connections, meet new people and accomplish business at the event.
""There so much to be said about about folks getting together, networking and sharing, kind of war stories, things that have happened in the last six months.  Talking about– over a cold beer– the trends in ag and the challenges that each of us face as professionals.  While there are moments we would compete with each other, but fundamentally we all want to be successful together," Kokes told AgWired.
In addition to professionals, this is the place to be to find fresh, new talent.  The pool of over-the-top amazing students attending this conference has many businesses on the lookout for the next generation of agriculture leaders.  "I'm going to be looking for young professionals and recruiting myself here," Kokes says.
Not to be missed are the exhibitors.  Agri-marketing staples are still present, along with new exhibitors to keep in fresh.  Attendees can expect companies offering new technologies and young people can get a great snapshot of business opportunities out there.
As he steps down Kokes reflects on an experience that is clearly important.  "NAMA has meant a lot to me personally.  I've had the chance to meet so many people that I wouldn't meet normally in my day to day work for NCBA but there's literally hundreds of people I'd call great friends here that I've met over the years."
Listen to his full interview here: Interview with NAMA President, Marvin Kokes
Coverage of the Agri-Marketing Conference is sponsored by
Brownfield Ag News
and
Nufarm