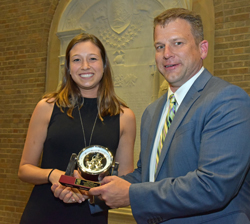 Christina O'Brien, Norz Hill Farm, Bridgewater, NJ, was awarded the 2016 Charles Eastin Award for encouraging communications between rural and urban audiences. The award was presented at the Celebration of Agriculture Dinner held at USDA in Washington, D.C. on National Ag Day, March 15, 2016.
O'Brien is involved with many organizations, keeping her focus on spreading the message of agriculture through education. She has served as a 4-H leader, running a workshop for "Science-sational day." She also has brought in baby livestock to educating kids in grades 1-3, and ran a workshop in 2014 on making healthy dog biscuits using ingredients straight from the farm. Through her farm, Norz Hill, she has planned field days teaching kids how to care for livestock.
She serves as junior advisor to the New Jersey Holstein Association, and works with other advisors to plan youth competitions including quiz bowl, speeches, and trifolds/research. She has initiated a lease program for the Garden State Sheep Breeders and currently leases out her Oxford sheep to four inner city girls, ages 8-13. She was the 2010 County Dairy Princess, using her title to help plan and coordinate an event at the local YMCA that featured agriculture questions, prizes, milk and cheese, as well as healthy recipes for a well-balanced diet.
"It's heartbreaking when I see kids from the city come on school trips who don't know what a pig is or have never seen a horse before," said O'Brien during her acceptance speech. "Our main goal is just to educate them, and I can't stress how important agriculture and livestock both are."
Listen to Christina's full speech here:
Christina O'Brien Accepting Charles Eastin Award
View and Download Photos here:
National Ag Day Activities Photo Album