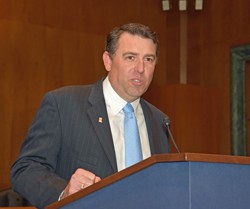 The National Ag Day Meet & Mingle Lunch took place in Washington D.C. drawing attendees to the Dirksen Senate Building for lunch and to once again hear from the legendary Orion Samuelson, WGN, who served as the events emcee.
Chad Garone took to the mic representing the Outstanding Farmers of America (OFA) and the 2015 class of Outstanding Young Farmers. OFA strives to foster better urban-rural relations, develop appreciation for their contributions and achievements and inform the agribusiness community of the growing urban awareness of farmers' importance and impact on America's economy.
Garone farms almonds, alfalfa, corn, wheat, potatoes, carrots, onions, watermelons and Angus cattle in California and addressed key challenges farmers and ranchers across the country are facing. Listen to his complete remarks here: Remarks from Chad Garone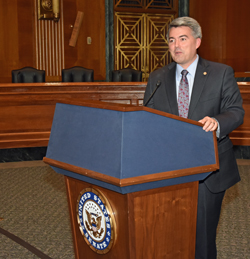 Senator Cory Gardner, Colorado also spoke to those in attendance and was honored to be a part of celebrating agriculture. He has a strong legacy in agriculture growing up in a rural agricultural community learning the family business selling farm implements.
"I encourage each one of you to interact with policy makers, leaders, elected officials and share a story of who we are and what we do. What made this country great was the ability to produce our own food and fiber to feed and clothe, not only those in the United States, but the world. Agriculture is the backbone of our country. We can never give that up."
Listen to all of Senator Gardner's comments here: Remarks from Senator Cory Gardner, Colorado
View and download photos here: National Ag Day Activities Photo Album