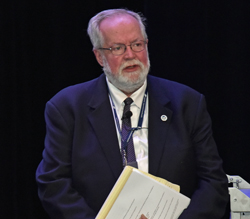 I met Neil Dierks, CEO, National Pork Producers Council, in New Orleans and got to talk with him about issues facing swine producers this year.
A big one has to do with food security. He says, "The world is shrinking. Globalization is real which means pathogens can cross borders very rapidly which can raise questions on health in the herds." Neil says they just provided testimony to Congress and the committee on the oversight of homeland security talking about those kinds of threats and how to prepare for them. Food security is one of the pillars of homeland security. You can read that testimony here.
Among actions NPPC suggested the federal government take to be better prepared to address a foreign pest infestation or disease outbreak:
• A sufficient quantity of vaccine to control and eradicate an outbreak of Foot-and-Mouth Disease.
• A more robust review of biosecurity measures in each sector of the agriculture industry.
• More vigorous scrutiny of imports at ports of entry.
• An animal identification system to better trace the movement of livestock to control the spread of a disease and to determine the origins of an outbreak.
• More funding for the systems that safeguard U.S. agriculture.
• Share data, including on animal movements, to improve disease response.
You can listen to my interview with Neil here to learn more: Interview with Neil Dierks, NPPC
BIVI 2016 AASV Meeting Photo Album
Watch for further coverage of the AASV meeting, sponsored by BIVI, here and on Animal.AgWired.com.
Coverage of American Association of Swine Veterinarians annual meeting sponsored by