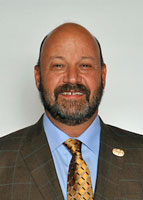 Idaho potato farmer Jim Tiede took over as the new president of the National Potato Council last week during the 2016 Potato Expo in Las Vegas.
Tiede is a third generation farmer from American Falls, Idaho who is looking forward to focusing on important issues to potato growers in the coming year, including TPP, WOTUS, and transportation. "We're looking at truck weight increases for the highways, which will allow us to be more efficient," he said. They will also be working on other trade and regulatory issues and they will all be on the plate during the NPC fly-in to Washington DC this year. "It should be a really good fly-in," says Tiede. "I'm encouraging everyone to come because it makes a difference to have boots on the ground there."
Normally the NPC summer meeting is in the home state of the president, but Tiede says he chose to go to Utah this year instead. "We just had it in Sun Valley (Idaho) two years ago, so we were looking for a new place," he said.
Learn more in this interview with Tiede: Interview with Jim Tiede, National Potato Council
Coverage of the Potato Expo is sponsored by