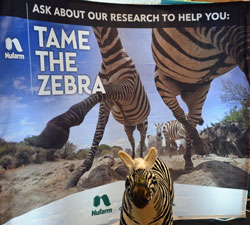 Nufarm is the eighth largest crop protection company in the world and just keeps getting bigger while not changing its stripes.
At the 2016 Potato Expo last week, I talked with Nufarm North America's Vice President for Innovations and Regulatory Affairs Rob Schwehr about what's new at Nufarm. "What we've done over the last couple of years is continue our portfolio expansion in our tree nuts/vines/vegetables segment, which includes potatoes, and as part of that we have expanded into bactericides," said Schwehr. That includes the company's big focus at Potato Expo on zebra chip disease in potatoes. "That is very much related to efforts Nufarm has put into citrus, where a very similar organism is causing a problem."
Schwehr says Nufarm is investing quite a bit into research and development to help growers with these kinds of problems. "We listen to customers and try and address their needs as best we can," he said.
Learn more in this interview: Interview with Rob Schwehr, Nufarm
Coverage of the Potato Expo is sponsored by