Since I had never been to the Potato Expo before I had no idea what to expect so I was surprised to find out what a huge event it really is!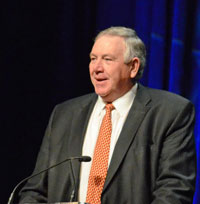 Randy Hardy of Idaho is past chairman of the National Potato Board and was one of the co-chairs of the expo. "I was in on the initial thought process of having a Potato Expo about 10 years ago," he said. "We felt if we had all of the attendees that attended the various potato meetings around the country we'd get 800 or 900 people. This year, we're going over 2100 …the success has just been phenomenal."
Hardy was excited about the roll out of the Spud Nation food truck but he was also very pleased with the technology seminars they offered at the expo. Next year he says the meeting will be in San Francisco.
Learn more in this interview – Interview with Randy Hardy, Potato Expo Co-chair
Coverage of the Potato Expo is sponsored by