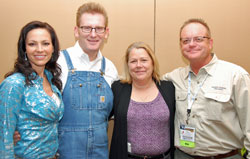 RFD-TV will air a marathon of the "The Joey + Rory Show" plus special tributes by country music stars on Thanksgiving Day. The celebration of Joey and Rory Feek's musical talents, spirit and faith follows Joey's recent decision to stop her treatments for cervical cancer.
The special program starts at 9 a.m. (ET) on Thursday, Nov. 26, with a five-hour marathon of the 10 best episodes of Joey+Rory from the past three years. Then, at 7:30 p.m. ET (with a replay at 11:30 p.m.), both networks will air an exclusive broadcast of personal messages to the Feeks from country-music stars such as Dolly Parton, Reba McEntire, Marty Stuart and Connie Smith.
The Feeks have released six albums together and were named the Academy of Country Music's Top New Vocal Duo in 2010, after Rory had already penned several hit country songs for artists such as Blake Shelton and Clay Walker. The RFD-TV series The Joey+Rory Show has followed the husband-and-wife singer-songwriters as they performed their country/bluegrass tunes and lived life on their small Tennessee farm with their newborn baby.
Joey was diagnosed with cervical cancer 16 months ago and has been in hospice in Indiana since Nov. 9.
Rory encourages fans to peruse his blog of their experiences at ThisLifeILive.com. In a recent entry, he wrote, "Joey's hope never fades. No amount of pain or medicine can touch it. It runs too deep. It's connected to her faith in God and, as she'll tell you, God can do anything."
Fans can also send handwritten cards or letters to Joey and Rory Feek and their family members at the following address: RFD-TV c/o Joey+Rory, 49 Music Square West, Nashville, TN 37203.