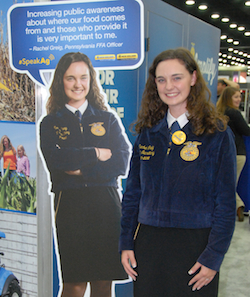 Rachel Greig has been part of the FFA program for 7 years and intends to make it part of her life for many years to come.  She attended the 2015 National FFA Convention this year as Pennsylvania's State FFA Secretary and you can hear her passion for the future of agriculture in her interview with Jamie Johansen.  
Pennsylvania State FFA Secretary Rachel Greig
"My passion about agriculture is advocating for younger people or our future generations because not everybody knows what agriculture is all about, or even what FFA is all about, so its very important we know where our food comes from and who does all the work to put into our food," Rachel says.
Her future plans are to attend college and become a speech and language pathologist, hopefully in an elementary school, and coming home to beef cows, pigs, and sheep after the bell rings.  She'd like others involved in FFA to know there's a place in agriculture for them when their time in high school is over.
"I'd like them to know there is a future for agriculture. And here [at the convention] you can go and visit many colleges– ag colleges, and they are amazing.  So it doesn't just end after high school.  You can move forward and keep moving forward.  It just never stops."
Find photos from the event here: 2015 National FFA Convention Photo Album