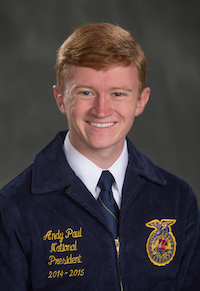 The 88th National FFA Convention & Expo is in full swing and the streets of Louisville, KY are flooded with corduroy jackets. This week the lives of the National FFA Officers are crazy to say the least, but I had a chance to chat with two of them this morning before the organized chaos got too deep.
Nearly 365 days ago Andy Paul was selected to serve the National FFA Organization as their National FFA President. Today you can still see that excitement in his eyes. He has traveled to 29 different states, dozens of airports, given keynote addresses and put on many workshops. But Andy said his favorite part of the year has been the time when he simply got to hangout with the members.
"A third of my year has been with the members, a third of my year has been with the sponsors who really drive this organization and a third of my year has been in training and preparation for this convention and other programs."
Andy wants all members to be comfortable with who you are and knowing what's important to you. "Holding on to the things that make you you is really my take home message."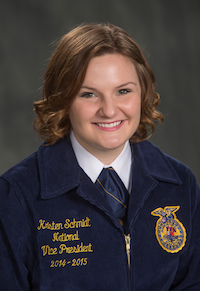 Listen to my complete interview Andy here: Interview with National FFA President, Andy Paul
I also spoke with Central Region Vice President, Kristen Schmidt, who calls Colorado home. She said she looks back at her year serving FFA members from across the country and sees the personal growth in herself and can't wait to put that into great use as she continues to pursue her passion for the agriculture community.
"Amplifying is all about taking something and making it louder, stronger or better. It is not just about cranking up the volume, it is also cranking up that intensity and taking those things that we already have and using them to serve a greater purpose."
Listen to my complete interview with Kristen here: Interview with National FFA Central Region VP, Kristen Schmidt