BASF has released the results of a 2015 study examining the role and influence agricultural uncertainties, such as volatile markets, weather, and disease, have on the current agricultural-lending landscape, and how growers can plan to place themselves in the best position to receive a loan.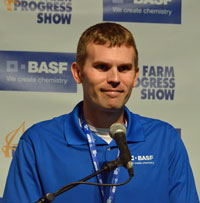 BASF surveyed agricultural lenders, asking them about their outlook for next year, and how they're approaching farm financing decisions. The key finding centered on the undeniable value of a grower who, regardless of uncertainties, can maintain an efficiency-centered mindset, provide a proven history of success, and also has a plan for success in the future.
"Eighty-eight percent of lenders said that if a grower brings in a plan to maximize their opportunities and mitigate their risk, they would factor that into their decision making about operating lines of credit in farm financing," said Brady Spangenberg, BASF Market Intelligence & Research Manager, during an interview with AgWired at the 2015 Farm Progress Show, "That's really the key. Ag lenders are looking at the long term, how a grower has managed the swings over the past 10 years and still has been consistently successful year in and year out."
BASF is hoping that the study will help farmers see the importance of protecting their bottom line by using different tools that help make their operation more efficient by increasing yield potential, reducing costs, managing risks, and taking advantage of historically low interest rates.
"We conducted the study because we're always interested in what's going on in the agriculture industry at large. We're partnering with growers and retailers, their concerns are our concerns," said Spangenberg, "No matter what the weather brings, no matter what the markets bring, growers and the agricultural industry are delivering food to their tables, and we want to help make sure they feel successful at the end of the season."
More information on the 2015 study: Efficiency In Agriculture – Protecting a Grower's Bottom Line
Listen to my interview with Brady here:
Interview with Brady Spangenberg, BASF