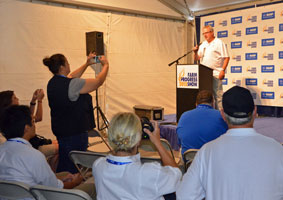 The U.S. Farmers and Ranchers Alliance (USFRA) will be just five years young this fall, but the coalition of agricultural organizations has experienced amazing growth in that short time.
"We are at 93 affiliate organizations, which is largely unprecedented," said USFRA CEO Randy Krotz, who notes that those affiliates represent a broad range of agriculture. "We have lamb, beef and pork and poultry, potatoes…we're always looking to grow," he said. "We'd love to have an organic organization come in, and we think we'll get there."
During a press conference at the Farm Progress Show, Krotz also talked about what's new with FARMLAND, the documentary feature film that USFRA helped to support. "We're offering it as a 44 minute version and putting it in high schools," he said. "We're working with Discovery Education to get it into high school curriculums across the country." By mid-October, every high school will have a curriculum and lessons built around agricultural issues highlighted in the film.
Find out more about what's new with USFRA in this interview. Interview with USFRA CEO Randy Krotz