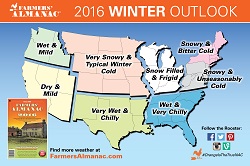 It might be the unofficial end of summer today, but some folks are already thinking about winter. The Farmers' Almanac warns those in the eastern part of the United States, especially the Southeast, to "brace yourselves" for a harsh winter.
"The winter of 2015–2016 is looking like a repeat of last winter, at least in terms of temperatures," reveals Caleb Weatherbee, the Farmers' Almanac's weather prognosticator, adding, "the term 'déjà vu' comes to mind."
"Wet and very chilly" is how the Almanac summarizes the winter for the Southeast, adding "an active storm track will bring above-normal precipitation to the Southeast."
Those in the western half of the U.S. should expect milder to more normal winter conditions.
The Farmers' Almanac makes its weather predictions based on a very specific mathematical and astronomical formula, and many users claim the forecast are 80-85 percent accurate.
Officials with the almanac point out that it does more than predict weather.
This year's edition of the Farmers' Almanac is packed with valuable advice on ways to live a more natural and healthier lifestyle. It takes a look at five historical droughts (including one current one), shares unusual muffin recipes, a new recipe contest, best days in 2016 to buy a house, quit smoking or wean your toddler, natural ways to combat garden pests, weird roadside attractions you've got to see to believe, plus annual favorites such as gardening, Moon, fishing, and eclipse calendars.
"The Farmers' Almanac is a slice of everyday life topped with the "hacks" you need (we've been doing them since our first edition) to do things better and more easily, plus wit and wisdom" shares Duncan, "including a very timely and appropriate Thought of the Year: 'All of us could take a lesson from the weather. It pays no attention to criticism.' "