FMC Corporation and Monsanto Company announced this week that they have expanded an agreement to continue their participation in the Roundup Ready PLUS® Crop Management Solutions platform.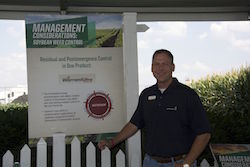 The agreement will be included in the new Roundup Ready® 2 Xtend Crop System that is set to launch in 2016, and includes FMC's Authority® brand sulfentrazone herbicides as well as FMC's Capture® LFR® and Hero® insecticides for corn in the Monsanto recommendation platform as a qualifying brand.
"FMC has become a really strong partner with Monsanto and the Roundup Ready PLUS platform," said Roundup Ready marketing manager Chris Reat in an interview with AgWired at the 2015 Farm Progress Show, "We're really excited about the expansion of the agreement, because it'll ensure farmers have the choice to continue to use the Authority Brand with Roundup Ready products,"
Monsanto and FMC have worked in collaboration on the Weed Management Solutions platform since 2010, providing a benefit that is seen within both companies, as well as with customers.
"When we look for partners to partner up with, we want good, solid companies that provide industry-leading brands and products, and certainly FMC does that with the Authority brand," says Reat, "The good thing about collaborations with two industry-leading companies like FMC and Monsanto is that when we get a chance to work together its very powerful and very impactful. It really is a win win for Monsanto, FMC, and our customers."
Listen to my interview with Reat here:
Interview with Chris Reat, Monsanto Company