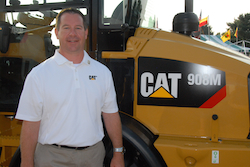 Caterpillar Inc. is in their second year back to the Farm Progress Show and have a growing presence in the agriculture community. I met up with Cat's Agriculture Industry Manager, Dustin Johansen, during the event to learn more about their product line and their new partnership with American Farm Bureau Federation (AFBF) that will provide members up to $2,000 in purchase incentives on Cat machines.
"Farm Bureau members can now receive additional discounts on Caterpillar construction products. In addition, we are excited for our Cat dealer network from across the country to work hand in hand with their county and state Farm Bureau's."
Caterpillar Inc. is confident that equipment like their skid steer loaders, compact track loaders and mini hydraulic excavators can help get the job done on the farm.
"In the last five years we have really upped our focus on the agriculture market segment. We have continued to see the industry for construction products being used by agriculture producers grow year after year. This year the industry is up 10% from the previous year. It is a testament to the growth of ag producers needing more equipment to get more done as their operations grow."
Listen to my complete interview with Dustin to learn more about Cat's investment in the agriculture community here: Interview with Dustin Johansen, Caterpillar Inc.
View and download photos from the press conference in the 2015 Farm Progress Photo Album.