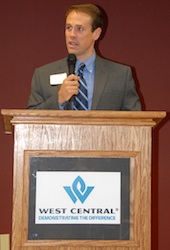 West Central's announcement that they are kicking off a $27 million expansion is adding value said Grant Kimberley, executive director of Iowa Biodiesel Board during West Central's event to announce the new project. Kimberley noted that Iowa is the leading producing of soybeans – more than 500 million bushels per year.
"It's all about value-added agriculture and being able to use as much as possible in state," explained Kimberley. "So a facility like this just adds that value by processing more soybeans in the state of Iowa. This translates into better prices for farmers." It also translates, Kimberley added, to creating local demand and this provides more pricing opportunities for the local farmer.
SoyPlus, one of West Central's key products that will be expanded as part of the $27 million project, is a great product, said Kimberley, because it adds value to the dairy industry in particular. Dairy is about seven percent of national soybean demand. Kimberley said SoyPlus helps increase milk production of the dairy animal so it ultimately increases profit for the dairy farmer.
Learn more about the how West Central is adding value to soybean growers and dairy producers by listening to Jamie Johansen's interview with Grant Kimberley: Grant Kimberley Interview