West Central has announced its plan for a $27 million, multi-year expansion to increase soybean processing capacity by 50 percent and build additional grain storage at its Ralston, Iowa complex. The project is set to have great benefits not only for Iowa but globally as discussed by Iowa Deputy Secretary of Agriculture Mike Naig.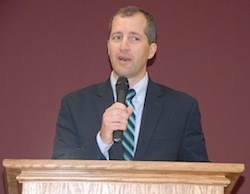 Naig said West Central's expansion is a great example of a lot of investments going on in the state in terms of value-added agriculture. West Central, he noted, has a tremendous footprint in this state and this project again shows their commitment and their vision to their community and to their farmer owners.
When the expansion comes online, there will be an additional six million bushel soybean demand. "So that helps the community, that helps the farmers in the area with price support, and we're also talking about jobs and that's a tremendous impact on Carroll County and the surrounding communities," said Naig.
Dairy Nutrition Plus is one of West Central's key products and their products, coupled with their expansion, gives them the opportunity to play in the international markets explained Naig. "We know there is growing demand for protein and so West Central can play a role in that by providing a high quality feed product." He also said that West Central's expansion will help to grow Iowa's dairy business but will also help grow the economies of the surrounding region from both a production standpoint as well as a processing standpoint.
Listen to Jamie Johansen's interview with Naig where he also discusses aviation flu and the Trade Promotion Authority (TPA) here: IA Deputy Sec of Ag Mike Naig