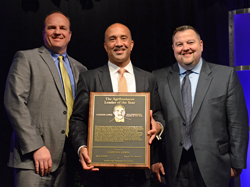 During the 2015 Agri-Marketing Conference the National Agri-Marketing Association presented the Agribusiness Leader of the Year Award to Clint Lewis, Executive Vice President and President, U.S. Operations, Zoetis.
This award, which is NAMA's highest honor, recognizes outstanding leadership in private, public or academic service and is conferred each year to a senior agribusiness executive who not only exemplifies excellence in agribusiness but has also made significant contributions to the industry.
Zoetis is the world's largest animal health company, established when Pfizer announced that its animal health business would become an independent company. Mr. Lewis helped launch the entity and now oversees the management of the livestock (cattle, pork, and poultry) and companion animal (small animal and equine) businesses in the United States and is also responsible for leading the global genetics business.
Clint says he defines the business he runs as from the "petables to the edibles – every livestock operation regardless of size and complexity."
You can listen to Clint's remarks here: NAMA Agribusiness Leader Clint Lewis, Zoetis
2015 Agri-Marketing Conference Photo Album
Coverage of the 2015 Agri-Marketing Conference is sponsored by
New Holland
and
Brownfield Ag News