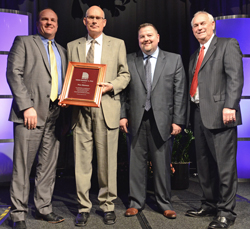 Have to admit to being surprised that former NAMA president and life-long agri-marketing professional Paul Redhage had never been named Marketer of the Year – but he is now!
Paul just retired from a long and distinguished career in January and has been taking some well deserved grandpa time after 30 years in the business, starting with Kenrick Advertising in 1985, moving to Brighton, then BASF and finally topping that with 15 years with FMC Corporation.
As a senior judge for the Student NAMA Marketing Competition for many years, Paul was passionate about mentoring young professionals for the industry he loves – and an industry that loves him.
Thanks, Paul! Now go enjoy those grand kids.
Listen to Paul talk about what this award means to him: Interview with Paul Redhage
2015 Agri-Marketing Conference Photo Album
Coverage of the 2015 Agri-Marketing Conference is sponsored by
New Holland
and
Brownfield Ag News