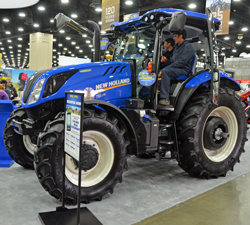 New Holland Agriculture's T6 and TS6 tractors drove many to their booth during the recent National Farm Machinery Show in Louisville, KY. Mark Lowery, Dairy and Livestock Specialist for New Holland, explained more about each tractors specs and how farmers can put them to use on their own operations.
The new T6 Series all-purpose premium tractors combines ultimate power with advanced technology to deliver comfort, visibility and maneuverability together with more power and performance. The new T6 is equipped with Tier 4B ECOBlue™ Hi-eSCR solution and advanced engine technology.
New Holland's TS6 Series tractors are new inside and out with new styling, a new VisionView™ cab, and new 4-cylinder, Fiat Powertrain Technologies common rail engines that meet Tier 4B emissions standards while delivering power and performance.
"These tractors are available to be ordered now, will start rolling off the line soon and dealers can give customers an expected delivery date."
"Folks are really excited about the operator interface in the cabs. They are spending a lot of time in that seat and want to make sure they got a good comfort level, good visibility which drives those lighting packages and real excited to see a standard instructors seat in these so they can take a rider along with them."
Listen to Chuck's complete interview with Mark here: Interview with Mark Lowery, Dairy & Livestock Specialist, New Holland