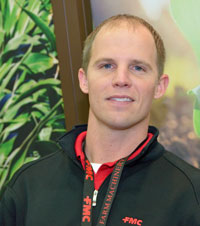 There's no way around it anymore. With the prevalence of resistant weeds growing every year, farmers are having to use a pre- and post-emergent overlap weed management program for control. At the 2015 National Farm Machinery Show, FMC Corporation is helping to make that a little easier for growers by offering effective modes of action to keep their fields cleaner from planting to harvest.
Nick Hustedde with FMC technical services says the overlap residual program is designed to address resistant weeds that have long emergence patterns. "That overlap program encompasses several different products from FMC for soybeans and corn that fit in the strategy," said Hustedde. Those products include Authority products for pre-emerge, Anthem for early post-emerge, and Solstice in corn to the V8 growth stage.
"We can get multiple modes of action in order to control the weeds, preserve the yield potential and also delay the onset of resistance, which is what the overlap system is all about," he added. "It's extremely important to get a clean start and finish clean."
Find out more about the FMC overlap system for weed management in this interview with Nick: Interview with Nick Hustedde, FMC
2015 National Farm Machinery Show Photo Album
The official show hashtag is #NFMS15.