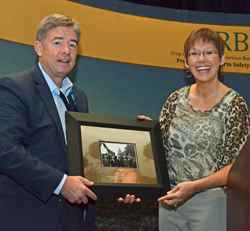 The gavel has been passed at the Crop Insurance and Reinsurance Bureau. Greg Mills, is now the outgoing Chair while Sheri Bane is the new Chair for CIRB. Greg was presented with several thank you gifts during the annual meeting.
I asked Greg to tell me what he and CIRB accomplished during his term. He says that one of those things is getting crop insurance looked at as something that doesn't just benefit the farmer but rural communities as a whole. He's also proud that the industry is working together on a future picture of crop insurance and this includes government agencies.
You can listen to my interview with Greg here: Interview with Greg Mills, outgoing CIRB chair
When I talked with Sheri I asked her what she sees as the top opportunities and challenges for CIRB. A big issue is the need to make sure that the cuts to crop insurance during the farm bill are not duplicated again as Congress goes about a new budget process. A lot of new members of the new Congress means CIRB has a lot of education work to do on Capitol Hill. She's also going to be focusing on a new leadership program for CIRB to prepare a younger generation of people prepared to get involved in the industry and especially in the work of the CIRB.
You can listen to my interview with Sheri here: Interview with Sheri Bane, new CIRB chair
2015 Crop Insurance & Reinsurance Bureau Annual Meeting Photo Album