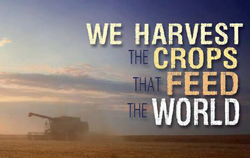 U.S. Custom Harvesters, Inc., (USCHI) has named Lamp Public Relations
& Marketing as its strategic planning development partner through June 2016 to help the organization continue strategic discussions towards implementing a Strategic Plan for 2016-2020.
"We're excited to work with Lamp Public Relations & Marketing as we cultivate outside resources to promote partnerships and collaborations to create our capacity and inventory for Strategic Plan 2016-2020," says. USCHI President, Kent Braathen of Grand Forks, N.D. "We're a strong organization with deep roots and need a stronger agricultural voice in Washington, D.C., on labor and other issues that directly affect our livelihoods as we harvest the crops that feed the world."
The agency and USCHI board members will be seeking input from membership and industry leaders at the 2015 USCHI National Convention this week in Grand Island, Neb.