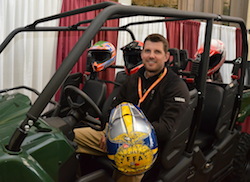 Yamaha's ATV/SxS marketing manager, Steve Nessl, stood in front of their brand new 2015 Viking VI while chatting with Chuck during the recent Trade Talk at the 2014 National Association of Farm Broadcasting's annual meeting.
"It is the industry's first true six passenger utility vehicle out there. Each person in the cabin has their own designated space. It's not only a durable, reliable workhorse in the field, but also a comfortable and capable one for everyone who gets in it."
Steve said Yamaha is a huge supporter of agriculture as a whole, but one specific long-lasting partnership has been with the FFA and Ag Communicators of Tomorrow (ACT). They are really interested in developing youth programs for the next generation of farmers and industry professionals.
Yamaha sponsored a scholarship program with ACT many years ago. Steve said the idea behind that was to seed the safety messaging with the appropriate young people who will be continuing to talk about agriculture now and in the future.
Beyond the agriculture market, Chuck talked with Steve about marketing to the the outdoorsmen. This is also something near and dear to Chuck's heart. Steve said their products are one in the same and fit the needs of both industries.
Listen Chuck's complete interview with Steve: Interview with Steve Nessl, Yamaha