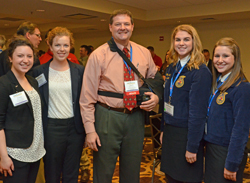 The 2014 Agricultural Retailers Association Convention & Expo is underway in New Orleans. The President/CEO for ARA is Daren Coppock, pictured here with some of our younger attendees from FFA and AFA. Great to see them here!
Daren says attendance is at a record this year and judging by the crowd at the opening reception and today's opening general session it's a big one. The big keynote speakers include Mike Vande Logt, Winfield and Kenny Cordell, Pinnacle Ag Holdings. I'll feature some of their remarks when I can. Daren also says that the networking opportunities with ag retailers and agribusinesses here at the convention is always one of the key reasons they love to attend.
You can listen to my interview with Daren here: Interview with Daren Coppock, ARA
The hashtag for the convention is #ARA2014.
You can find lots of convention photos here: 2014 ARA Convention & Expo Photo Album