This week I will be attending my first Agricultural Retailers Association Annual Convention & Expo. I've got a preview of what will be taking place in New Orleans from Brian Reuwee, Director of Communications & Marketing. Brian and I sat down during the recent NAFB Trade Talk session.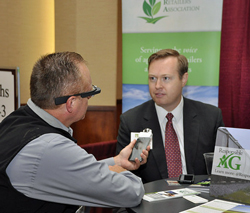 One of the things that caught my eye about this year's program is a focus on precision agriculture. There is a session on this topic for those "ultra-precision" farmers out there and how retailers can best support them. I would also call them AgNerds! Here's some information on the conference:

Farmers relentlessly pursue the best course of action. And, like a trusted guide, ag retailers provide advice, analysis, products and services to help them discover the most successful strategies.
The Agricultural Retailers Association Annual Conference and Expo December 2-4 at the Sheraton New Orleans – French Quarter will help you navigate the changing ag retail landscape through panel discussions, presentations, networking and exhibits.

Find your path forward. Join industry experts, peers and colleagues at the only essential event for ag retailers and suppliers: the ARA Annual Conference & Expo.

Learn more about what's going on during this week's convention here: Ag Retailers Convention