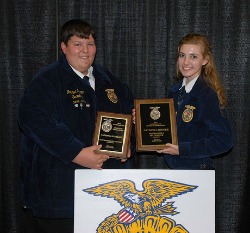 The Ponchatoula FFA Chapter (Louisiana) was selected as the National Model of Excellence award winner at the 2014 National FFA Convention. This award is highly competitive and sought after by chapters across the country; the Ponchatoula FFA Chapter had to complete an extensive application process that included a detailed application, a speech, and a 10 min interview. Two members of the Ponchatoula FFA Chapter were on stage to accept the award on behalf of their chapter and fellow members. Brooke Hoover, a college freshman, and Joshua Ippolito, a high-school junior, were very proud and excited to be here at the 2014 National FFA Convention. When asked what the best part of being at convention was, they shared their appreciation and enthusiasm for the alumni and community support that brought them here.
"Just being able to be here and representing because our FFA Alumni sponsored us to be here and its such an honor to be able to bring this back and say thank you so much for sponsoring us and I hope that we did you proud," said Brooke.
"With this money we can go out and implement more important community service projects that we have wanted to do so much, but haven't been able to do," added Joshua.
The Ponchatoula FFA Chapter looks forward to using the scholarship money to further projects that will have a lasting impact on their community.
Listen to my complete interview with Brook Hoover and Joshua Ippolito here:Interview with Ponchatoula LA FFA
Find all our photos from the event here: 87th National FFA Conventions Photo