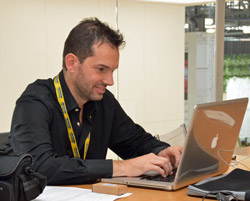 I still feel special to have been chosen by New Holland to participate in their New Holland Blogger Days last week. It was a diverse group in terms of language and home country. However, we all had much in common including our passion for agriculture, using social media to help distribute our information while personally engaging with farmers and the general public and for a couple of us, gadgets! I interviewed each of my fellow bloggers including the New Holland Social Media and Digital Projects Manager, Lorena Valenti. Let's meet them.
First up is Cristiano Spadoni, AgroNotizie. You can follow him on @CSpadoni and @Agronotizie. I asked him what his main take-aways are from the days we spent in Turin. He says it can be summed up in two words, Sustainability and Innovation. He says, "Technology can help agriculture. Technology can help farmers to do more with less." This helps them connect with consumers who are asking for sustainable products.
You can listen to my interview with Cristiano here: Interview with Cristiano Spadoni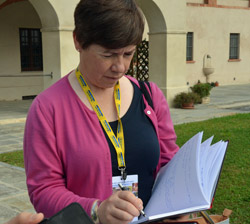 I was very pleased to see Emma Penny, Farmers Guardian, in our group. I saw Emma just recently in Scotland where she was one of the tour organizers for the IFAJ Congress in Aberdeen! It's a small world.
You can follow Emma on @FarmersGuardian. Emma says that for her the focus that New Holland will be putting on farmers at Expo Milano 2015 as the heroes of food production was a key take-away. Another take-away is that they are quite involved with the University of Gastronomic Sciences which was started by the founder of the Slow Food movement. "We learned a lot more about the Slow Food movement and really what it stood for."
You can listen to my interview with Emma here: Interview with Emma Penny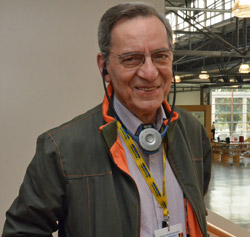 Here's our man from Brazil, Richard Jakubaszko, Agro DBO. You can find his blog here. Richard is pictured wearing a pair of headphones we used for translation on our tours.
Richard's publication is focused on Brazilian agriculture but he takes a different approach with his blog. It's where he can editorialize on all kinds of subjects like art, culture, agriculture and politics. He says it is a place for debate not news. Like all of us, Richard was grateful to New Holland for the invitation. Highlights of our time in Turin for him include the visit to the University of Gastronomic Sciences, our visit to the Museum of Automobiles and our tour of the Maserati production plant. He also has plans to write about Expo Milano 2015 and New Holland's involvement with it.
You can listen to my interview with Richard here: Interview with Richard Jakubaszko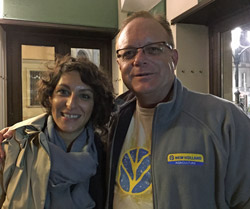 I first got to know Lorena Valenti while working with her on the North America launch of MyNewHolland.com. You can follow Lorena on @Lorena_Valenti.
Lorena says that digital public relations is increasingly important to the brand today as well as a good relationship with bloggers like us. However, the "human touch" is also very important to New Holland to let us know about projects like Expo Milano 2015. I can assure Lorena and the whole New Holland team that we will be helping spread the word about New Holland's Sustainable Farm Pavilion at Expo.
You can listen to my interview with Lorena here: Interview with Lorena Valenti