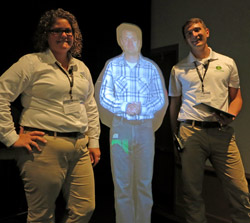 On stage doing training for John Deere this week is Brian the virtual trainer. He's pictured in the middle with Randy Kasperbauer on the right and Laura Donaldson. I talked with Randy about Brian.
Brian is a simulated customer with pre-recorded responses that Randy can control from his tablet. Some of the things Brian talks about is building his data network. He's a true AgNerd!
You can listen to my interview here: Interview with Randy Kasperbauer
In the video you can see some of Brian's presentation points.