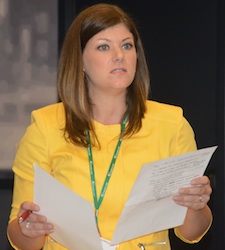 One of the tools AgCareers.com is becoming well known for is their annual HR Agribusiness Review. During this year's annual HR & Food Roundtable, the survey team released the preliminary results of the 2014-2015 report. The review provides data on a range of human resource (HR) practices relevant to participating agribusinesses over the last 12 months. Today, 86 agribusiness companies have provided information to document emerging industry trends and develops relating to HR.
To learn more about the report, I spoke with Mary Barefoot with AgCareers.com. Barefoot  noted that there are 14 business sectors involved in the survey with the most prominent being Input Retail, Cooperative and Crop Services representing 17.4 percent. The survey also features a large mix of companies from small to large.
Barefoot explained that there are several Key findings of the Agribusiness HR Review 2014-2015
89.5% of companies experienced an increase in salaries during the last 12 months.
The Agribusiness Review forecasts salaries to increase between 3.1-3.5% between July 2014-June 2015.
57.6% of participants who performed a compensation market study within the last 2 years utilized a balance of resources.
In the next 2 years, nearly 70% of participants expect their workforce to increase in size while only 4.6% expect a decrease.
Roughly 35% of agribusiness has a turnover rate between 6.1% and 12%.
38.3% of companies reported 91-100% of employees received a bonus during the last fiscal year .
The number of companies using social media as a recruitment tool has more than doubled in the last year.
When asked what steps companies take to compete against other employers, 72% of companies responded they provided better benefits.
75.5% of companies said the most effective means of reaching prospective applicants is employee referrals and networks.
60.5% of companies plan to do more college and university recruiting in the next 1-5 years.
The full report will be available on the AgCareers.com website in December 2014. For companies who are interested in participating, contact Mary.
Learn more about the annual Agribusiness HR Review by listening to my interview with Mary Barefoot:  Interview With Mary Barefoot
View the 2014 AgCareers.com HR & Food Roundtable photo album.