Nicole Price's performance is being measured by her firm, Cy Wakeman, on how much her social media profile improves. Somewhat interesting as she came to Minneapolis, MN yesterday and gave a presentation focused on "Reality-Based Rules of the Workplace" to a full house during the AgCareers.com HR & Food Roundtable about a new performance metric for quantifying employee value to the organization. And this metric is not your social media profile. (Follow Nicole on Twitter @NicoleatCWI.)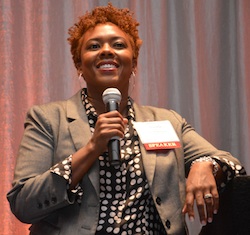 Price explained to attendees that there are three different types of employees, resistant, maintenance and innovators. There were several things her firm noticed during their research that are very interesting: in high performing organizations most people who did everything they were charged with were rated as average; and leaders overrate because we use performance measures as a motivational tool. And guess what? This doesn't work.
Organizations need new engagement strategies and accountability. She stressed that organizations need to stop spending time on poor performers and spent more time talking to high performers.
Their research identified 5 New Rules of the Workplace:
Rule 1: Your level of accountability determines your level of happiness so don't hope to be lucky, choose to be happy.
Rule 2: Suffering is optional so ditch the drama.
Rule 3: Buy-in is not optional; it's your action, not your opinion that adds value.
Rule 4: Say yes to what's next – because change is opportunity.
Rule 5: You will always have extenuating circumstances so succeed anyway.
Nicole Price speaks in more detail about these rules and how to put them in action in my interview. First, here is a closing thought on change from Price. Change is hard for the unready. Most leaders spend a lot of time with people in resistance; yet there is very little chance you can change them. Leaders can't really spend time with those employees with vision either. The time should be spent with those in maintenance. These people get the least amount of attention but have the most ability to change.
Learn more in my interview with Nicole Price: Nicole Price Interview
View the 2014 AgCareers.com HR & Food Roundtable photo album.