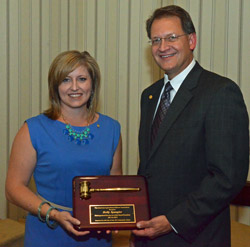 The gavel has been passed for the American Agricultural Editors Association. Holly Spangler passed it to Kurt Lawton, Corn & Soybean Digest. Kurt also made a nice memento presentation to Holly. BTW. Kurt was one of the first editors of what is now our Precision.AgWired.com website!
After business was taken care of during last week's Ag Media Summit I talked with Kurt to see what he's looking forward to working on with AAEA in the coming year. Kurt will be a great leader I'm sure. For one thing he has been a member under all the main categories of membership and can draw on that experience. Looking ahead, he sees AAEA taking a look at the strategic plan and figuring out how the leaders can make it an even better organization.
Kurt has also attended an International Federation of Agricultural Journalists Congress and urges AAEA members to take advantage of the opportunity.
You can listen to my interview with Kurt here: Interview with Kurt Lawton