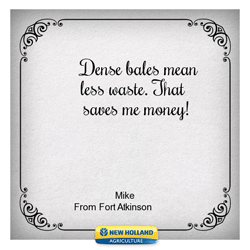 Just last year New Holland introduced the new Roll-Belt 560 Round Baler as they continue to develop this product line. The company decided to get their customers involved with the online conversation about baling with an interactive Facebook App – the New Holland Roll-Belt App. To learn more about the campaign, which we've helped promote, I spoke with Curt Hoffman, Crop Packaging Marketing Manager. The FB app was created to allow customers to share their baling tips like the one you see in this card. They responded and on the app you'll find a map showing where the tips have come from so you can click on that location and see the tip.
You can listen to my interview with Curt here: Interview with Curt Hoffman
Here's some background on New Holland in the round baler business.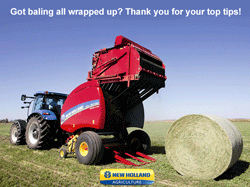 New Holland launched the very first round baler back in 1974. The Model 850 was the first in a long line of balers which has featured state-of-the- art technology to improve baling performance. The Model 630 introduced belt technology in 1989 and set the industry standard for variable chamber baling. Over a decade later, New Holland introduced the CropCutterTM models, which set the benchmark in ultra-fine chopping performance, perfect for silage operations. In 2006 the 200,000th round baler rolled off the production line, testament to the range's enduring popularity.