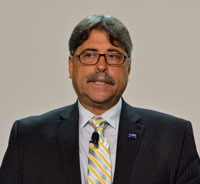 BASF itself will be 150 years old next year, but the ag products sector of the company is just a century old this year.
"So we are the younger part of BASF but it's obviously two important milestones for BASF," said Markus Heldt, president of the global crop protection division, who adds that the future is very bright as BASF moves ahead with a long term ag solutions strategy.
"We have possibly the most exciting and complete pipeline I've ever seen in BASF for the last 15 years and it's new products and innovations coming in herbicides, fungicides, insecticides and functional crop care," said Heldt.
As we were at the BASF Ag Media Summit this week, the company announced a new agreement with Mitsui Chemicals Agro for the global development and license agreement for a new insecticide. "It's a unique mode of action we are developing for chewing insects for broad acre crops as a seed treatment and also for non-crop application," Heldt said. Significant research over the next three years will continue, with the first registration submission in 2016 for Japan, with other markets following in 2017. Interview with Markus Heldt, BASF