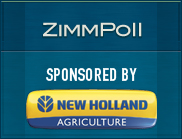 Our latest ZimmPoll asked the question, "What is the best way to market to millennials? "
I think we all could have guessed that marketing online to millennials is used most often. Digital forms of media are easily in our grasp with smartphones, tablets and computers. However, I was surprised that radio beat TV.
Our poll results:
Online – 52%
Print – 7%
Television – 11%
Radio – 16%
Other – 14%
Our new ZimmPoll is now live and asks the question, "What features of MyNewHolland.com do you like?"
On April 22 New Holland North America launched MyNewHolland.com, an online destination for all things New Holland and open to all farmers. Current features include the ability to create an inventory of your equipment, a section on Precision Land Management, a Configurator tool to let you design your own configuration of new equipment you'd like to order, a topical discussion on ethanol which you are invited to read and comment on and more. More features will be rolled out in the future as the community grows. As the sponsor of our weekly ZimmPoll we'd like to get your feedback for New Holland on their newest announcement.