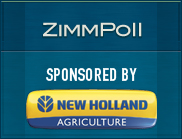 Our latest ZimmPoll asked the question, "Is climate change impacting agriculture?"
Typically our ZimmPoll's don't have a landslide winner like this one. It is clear the majority of those who took this week's poll believe that climate change has a strong impact on agriculture. To read more about the climate change assessment released by the White House last week, check out this recent AgWired post, EPA Chief Discusses Climate Change Report.
Our poll results:
Definitely – 64%
Not at all – 7%
Maybe, but not man made – 13%
Nothing we can do about it – 8%
No idea- 4%
Other – 4%
Our new ZimmPoll is now live and asks the question, "What is the best way to market to millennials?"
Last week Chuck covered Animal Agriculture Alliance's Stakeholders Summit themed with "Cracking the Millennial Code." Marketing to the millennial generation is key, yet may need to be a little different then marketing tactics in the past. What do you feel is the best way to market to millennials?