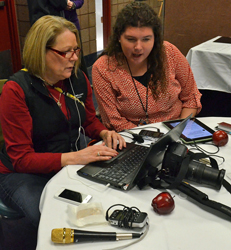 We brought Anna Leigh Peek to the National Farm Machinery Show last week as our "unofficial" intern for the day, just because we are very impressed with the motivation and self-confidence of this Alabama farm girl who is about to graduate from Auburn University with a degree in agricultural communications.
"I had grown up for 13 years of my life on the farm so I have a deep appreciation and love for agriculture which motivated me to start farming last year a little bit on my own," Anna Leigh told us.
Chuck met Anna Leigh at an AgChat conference and she made a point to look me up at the International Production and Processing Expo in Atlanta last month because she is determined to land a good job in the field of ag communications when she graduates in May. "There's a lot of things I haven't gotten to try yet, but right now I can see myself doing some sort of agricultural public relations," she said.
Anna Leigh was excited to spend a day with us and learn more about what we do at an event, as well as get to meet some more folks in the industry. She is active on Twitter @AnnaLeighPeek and has her own blog "AL from AL" – Anna Leigh from Alabama! Please feel free to contact us to find out more about her, but we give her the ZimmComm seal of approval if you are looking for a new hire who is highly motivated and a fast learner with plenty of great communications and social media skills.
Listen to my interview with Anna Leigh here: Interview with Anna Leigh Peek, Auburn graduating senior
National Farm Machinery Show Photo Album

Coverage of the National Farm Machinery Show is sponsored by
FMC
and
New Holland Agriculture