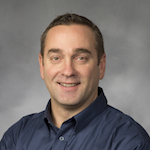 Freezing temperatures, a wetter than normal harvest, and more exports have all contributed to a "perfect storm" scenario for short supplies of propane right now.
According to Scott Long, manager of propane marketing and business development for GROWMARK, the wet harvest meant nearly 5 times the amount of propane was used to dry the crop than normal. This put the market behind during a winter that has been bitterly cold. Add to that the fact that we have had increased exports since the United States has the some of the lowest priced propane in the world.
Scott believes that things are starting to turn a corner and the prices are starting to come down a little, but it's going to take some time for the market to correct itself. In the state of Illinois, Governor Pat Quinn has declared an energy emergency to help bring more propane to the state and relax some of the rules for energy assistance and help small businesses with increased costs associated with the supply shortage. Scott says that this can be prevented in the future and the market is going to recover. He asks people to just "bear with us" as the marketers and wholesalers work through this issue.
You can listen to my interview with Scott here: Scott Long, GROWMARK