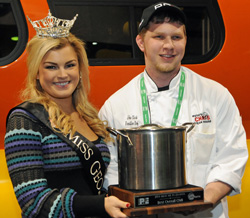 Because food matters and especially chili on these chilly winter days we bring you the winner of the Meat Me in @ATLANTA Chili competition. He's Jeff Clark, Ruth's Chris, who was named Best Overall Chili Winner. The event was held at the International Production & Processing Expo (IPPE) on Tuesday, Jan. 28.

The event was sponsored by the U.S. Poultry & Egg Association, the American Meat Institute, Atlanta Convention & Visitors Bureau and Georgia World Congress Center. Second place went to Anna Firmani of Hard Rock Cafe, and third place went to Dave Myree of PittyPat's Porch. The awards were presented by Miss Georgia, Carly Mathis.
Twelve of Atlanta's top professional chefs competed for the honor of being named Best Overall Chili winner. Each chef submitted their best chili, using beef, bison, boar, turkey, pork or chicken. The chili was voted on by the attendees of IPPE.
The award was presented by Carly Mathis, Miss Georgia.