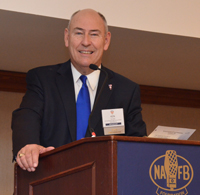 Since the Academy of Motion Picture Arts and Sciences took exception to the use of the word "Oscar" for NAFB's annual reporting awards that had been presented since the 1970s, a new name has been bestowed for the awards that will pay tribute to one of organization's past presidents who passed away last year.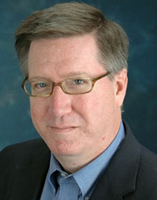 During the NAFB Foundation luncheon, chairman Ken Root announced that the Oscar in Agriculture award will be renamed in recognition of the late, great Stewart Doan. "We are calling it The Doan, in honor of Stewart who was a reporter's reporter," said Ken. Stewart covered agricultural policy news for more than 30 years from Arkansas to Washington DC. He was the voice of Agri-Pulse at the time of his unexpected passing.
After putting the award on hiatus for a year, Ken says starting next year there will be three "Doans" awarded – for radio, television, and one for internet media. "We believe that it's very important for our members to be recognized by their peers for the highest quality of journalism," he said.
In this interview, Ken also talks about the importance of the NAFB Foundation, the new George Logan Scholarship, and the new members of the foundation board. Interview with Ken Root, NAFB Foundation
2013 NAFB Convention Photo Album