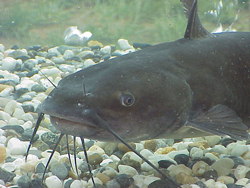 Catfish was a word only heard once in the first farm bill conference committee meeting, giving some hope that it might be one of the less contentious issues in completing the legislation.
"We're certainly hopeful of that," says Gavin Gibbons of the National Fisheries Institute, which has been actively engaged in the push to repeal the USDA catfish inspection program that was included in the 2008 farm bill. Repeal language is included in the House version of the bill and Gibbons says it would have been in the Senate bill as well "except that they stopped debate on amendments before they got to the catfish amendment."
The only mention of the catfish program during the conference committee meeting on Wednesday came from Rep. Mike Rogers (R-AL) who said he would "strongly prefer" to keep the USDA inspection program. At least two members of the committee, Reps. Mike McIntyre (D-NC) and Filemon Vela (D-TX), were among 76 House members who signed a letter to conferees last week supporting a repeal.
Besides concerns that the program is duplicative and wastes taxpayer dollars, a bigger issue is the trade implications. Gibbons says this week trade officials from Vietnam notified Secretary of State John Kerry and members of Congress that the U.S. can expect "WTO-sanctioned trade retaliation" if the program is not repealed. "It's also generating issues with China," he said. "They specifically mentioned U.S. ag exports as bearing the brunt of that retaliation."
Listen to my interview with Gavin here: Gavin Gibbons, National Fisheries Institute