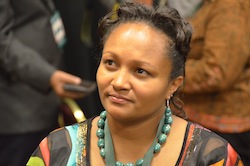 Brilliant, well-spoken and pretty as a doll, Dr. Charity Kawira Mutegi was everyone's darling at the World Food Prize symposium last week.
The 38-year-old researcher from Kenya received the 2013 Norman Borlaug Award for Field Research and Application, endowed by the Rockefeller Foundation, in recognition of her efforts to find the cause and a solution to a deadly outbreak of aflatoxicosis in 2004-05 which killed 125 in eastern Kenya.  Her relentless research led to solutions fending off future outbreaks and securing the region's crop of maize.
Dr. Mutegi and her team are eradicating aflatoxin, a naturally occurring mold, a major concern for farmers, and toxic to people who directly or indirectly consume it.  The way she accomplishes this is by using the non-toxic form of the fungus which has a competitive advantage over the deadly strains.  Dr. Mutegi says this is just one way to rid her country of the disease which has killed hundreds.
You can listen to a portion of Dr. Mutegi's press conference at the 2013 World Food Prize here Dr. Charity Mutegi remarks
2013 World Food Prize photos