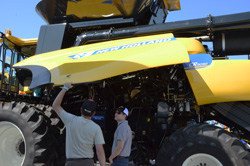 If you visit a New Holland exhibit at the farm shows this season you can not miss the big yellow CR9000 Combines and corn heads. This one was on display at the Farm Progress Show and showing it off to the ag media was New Holland's Nigel McKenzie.
These bad boys continue the more than 35-year pure "Twin Rotor® bloodline" which offers superior multi-pass threshing and best-in-class grain and straw quality. You will also find industry leading stone protection thanks to the new, Dynamic Stone ProtectionTM system and superior residue management flexibility with features like the new Opti-Spread™ system. They also have new Tier 4A engines which decrease emissions and decrease your fuel costs. They feature New Holland's ECOBlue™ SCR technology that turns cool, clean air into more power while using less fuel for up to 10% fuel savings.
You can listen to my interview with Nigel here: Interview with Nigel McKenzie
You can also watch his presentation in the video below.
2013 Farm Progress Show Photo Album
Coverage of the 2013 Farm Progress show is sponsored by Bayer CropScience, Growmark and New Holland