As the Nation reflects on the 12th anniversary of the Sept. 11th terrorist attacks on New York, the Pentagon and Pennsylvania, one of our good friends is partnering with a charity to give military families a place to stay while loved ones are in the hospital.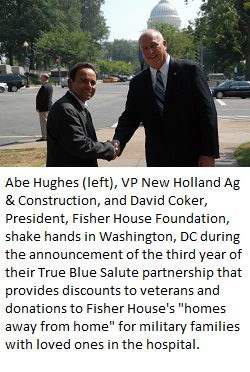 "For three years now, we have had a partnership where we honor our veterans [and first responders]," explains Abe Hughes, the Vice President for Ag and Construction at New Holland. He says New Holland works with Fisher House, a charity that gives military family members shelter and support during a medical crisis at any of Fisher House's 61 homes worldwide. From now until Nov. 11, 2013, Veterans Day, New Holland will give military, veterans and first responders a $911 discount on eligible pieces of equipment sold and donate $250 for each piece of equipment sold to veterans to Fisher House. "By the end of this promotion this year, we'll have generated well over a million dollars for this organization… proof that a company can do good and make great products."
The relationship between New Holland and Fisher House started when New Holland auctioned off Jay Leno's New Holland Boomer Tractor for more than $535,000 in 2012, giving the money to Fisher House. Abe points out that this is not some marketing scheme. They truly wanted to help this charity.
"One organization that's doing incredible good in this country is Fisher House," providing a first-class, free home right next to military installations for those families of military members during medical crises. Abe says they also wanted to make sure they honored veterans with the $911 discount, perhaps jump-starting a new career for them. "Maybe get themselves into business. Maybe they're going to be construction contractors… maybe landscapers… maybe they have a farm, but we felt this is a great way we could benefit them and help them out," especially when you consider that while Rural America makes up just 16 percent of the population, it contributes 40 percent of service members, Abe says.
You can find out more at TrueBlueSalute.com and www.fisherhouse.org, as well as your local New Holland dealer.
Listen to my entire interview with Abe here: Interview with Abe Hughes, New Holland
And you can check out some behind the scenes pictures from New Holland's and Fisher House's video about the True Blue Salute on RFD TV.